New Delhi: Gujarat's Kathiawar region, now Saurashtra, has long had an association with cricketing royalty as the home of batsman maharaja Ranjitsinhji, or Ranji. Today, the Saurashtra cricket team is taking the legacy forward, notching an unprecedented number of wins in the last few years, including two Ranji trophies in three seasons. So, what's behind this rise?
If you ask right-hand batsman Arpit Vasavada, this year's Ranji Trophy's 'player of the season', the team's confidence and collective strength is fuelling its success.
He pointed to the fact that the team has won crucial games despite the absence of some major players.
For the Ranji trophy, two Saurashtrian stars — all-rounder Ravindra Jadeja and batsman Cheteshwar Pujara — were away playing in the India-Australia Test series. Further, Vasavada led the Saurashtra side when captain Jaydev Unadkat got the India call up during the same series.
"It shows how confident we are as a unit that we can deliver even without the big guns," Vasavada told ThePrint.
He is justifiably proud of the team's achievements. The Saurashtra eleven have been on a roll this domestic season. On 2 December 2022, the team bagged the Vijay Hazare Trophy after a gap of 14 years, defeating Maharashtra in the finals.
Then, on 19 February this year, the team defeated West Bengal at Kolkata's Eden Gardens to win the Ranji Trophy — a repeat of its performance in 2019-20, when it won the trophy against Bengal in Rajkot.
Here's a look at some of the factors that have made the Saurashtra team such a force to reckon with in the domestic circuit.
---
Also read: Why blind cricketers in Pakistan are better off than six-time champions India
---
'No. 11 is also a batter', Kotak factor
Some of the Saurashtra team's successes can be attributed to the fact that even their no. 11 player is a batter, and they have a strong middle-order.
"Our team's USP is that even our no. 11 player is a batter," Vasavada said. "You send Chetan Sakariya at no. 5 or no. 7 and he will smash runs for the team. Even though he is a left-arm medium pacer, you can bank upon him (for runs too)."
This is borne out by bowler Sakariya's demonstrated proficiency with the bat. For instance, when the Bhavnagar native was sent out at no. 7 during the Ranji semi-final against Karnataka, he smashed three sixes, adding 62 runs with Vasavada.
In the 2019-20 Ranji season, too, Sakariya went out to bat at no. 5 in the semis against Gujarat and scored 45 runs.
Indeed, middle-order work is the real backbone for the team, with wicketkeeper-batter Sheldon Jackson and allrounders Chirag Jani, and Prerak Mankad serving as run-machines for Saurashtra.
"You can say that most of the players are all-rounders," Jani told ThePrint. "On paper, someone may be a bowler, but when the team needs them, they can chip in with runs."
According to multiple players, much of the credit for the team's batting strength goes to former coach Sitanshu Kotak.
A legendary cricketer who played 130 first-class matches for Saurashtra, Kotak signed up as the team's coach in 2014. He continued as Saurashtra coach until last year, and currently coaches India's A-team.
Vasavada said that Kotak had "prepared the core" of what the team is today. "He built the intent to win and confidence among players," he added.
Notably, when Sitanshu Kotak started his stint as Saurashtra coach in 2014, the team was not at its highest point. In the 2015 Ranji season, in fact, Saurashtra was relegated to 'Group C'.
But within a year, in 2016, the team was promoted to the Elite group.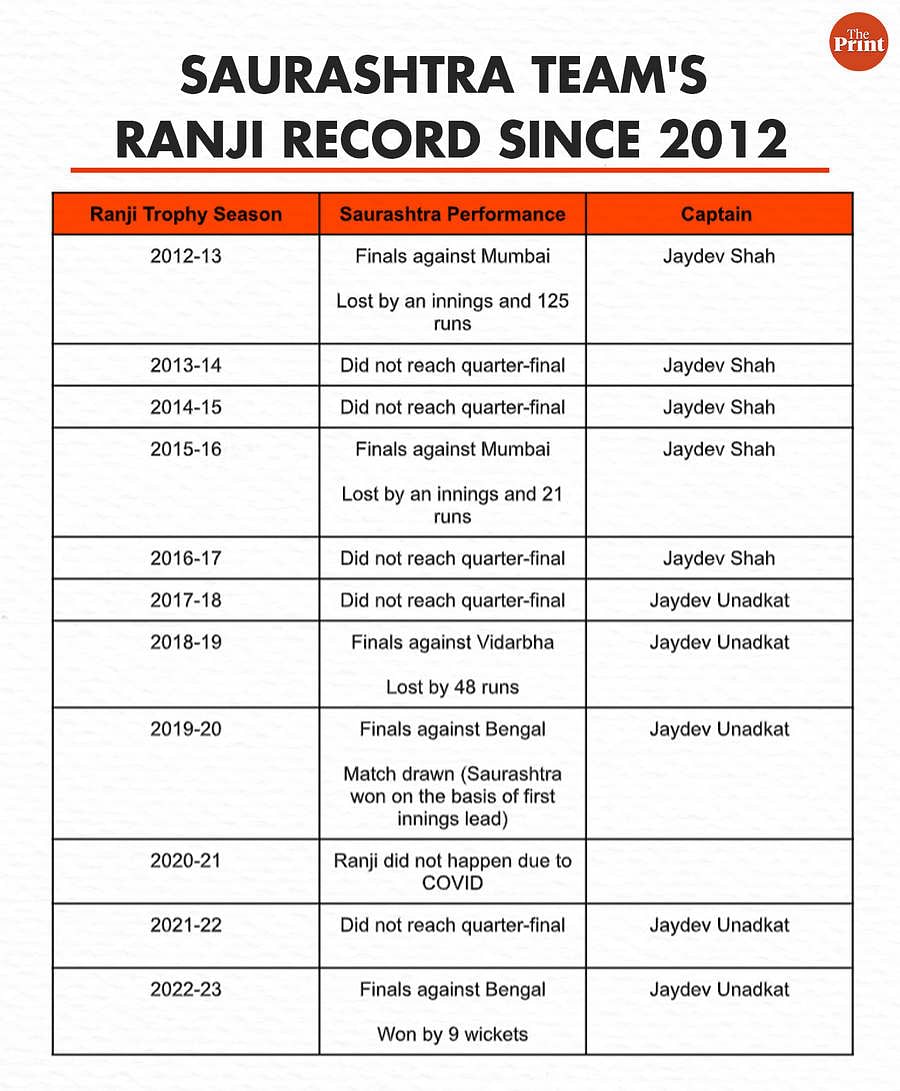 One reason for this is that Kotak had started working on the tail-enders, Vasavada explained.
"He believed in grooming fast bowlers for batting, because in our Indian track, in tests, after a few overs, they cannot contribute as much as spinners can. So, in order to utilise their talent, Kotak worked on their batting skills as well," Vasavada said.
The current Saurashtra coach Niraj Odedra agrees that Kotak played an invaluable role.
"He worked closely with players in improving their game. I was his assistant coach then," he said.
'Faith' in potential, age no bar
Keeping "faith" in the "potential" players of players, not prioritising age, and creating an atmosphere of security helped build players' confidence and led to better performances, according to Jaydev Shah, under whose captaincy Saurashtra reached the Ranji finals for the first time. He is currently the president of Saurashtra Cricket Association.
"The key to our success is that we keep the faith in our players until they perform well for the team. We believe in the potential of the player and don't keep changing the team time and again," Shah said.
One example of "faith" bearing fruit was in the case of Sheldon Jackson, said Shah. "I remember when I was the captain, Sheldon Jackson had to sit on the side for a good six years. But we never lost faith in him. He was in the squad and when he got the chance, you see the results. Today, he's the most dependable middle-order batsman."
Shah also noted that it was important not to overlook players when they reached a certain age.
"It's not like a 30-year-old player cannot play T20 or ODI. We believe in giving chances and turning the potential to real talent. Thus, it helps to create a secure environment and everyone then performs well," he added.
Vasavada said that current captain Jaydev Unadkat too carried on the tradition of reposing confidence in players and seeing them through to success.
"Unadkat as captain worked wonders for our team. I remember, during last year's Syed Mushtaq Ali Trophy, I was batting at no. 5 or no. 6 for around four-five matches and suddenly, Jaydev asked me to open against Chandigarh. I was quite shocked, but I went ahead. In that match I scored 70 runs as the opener. So, he has that level of confidence in his players," Vasavada said.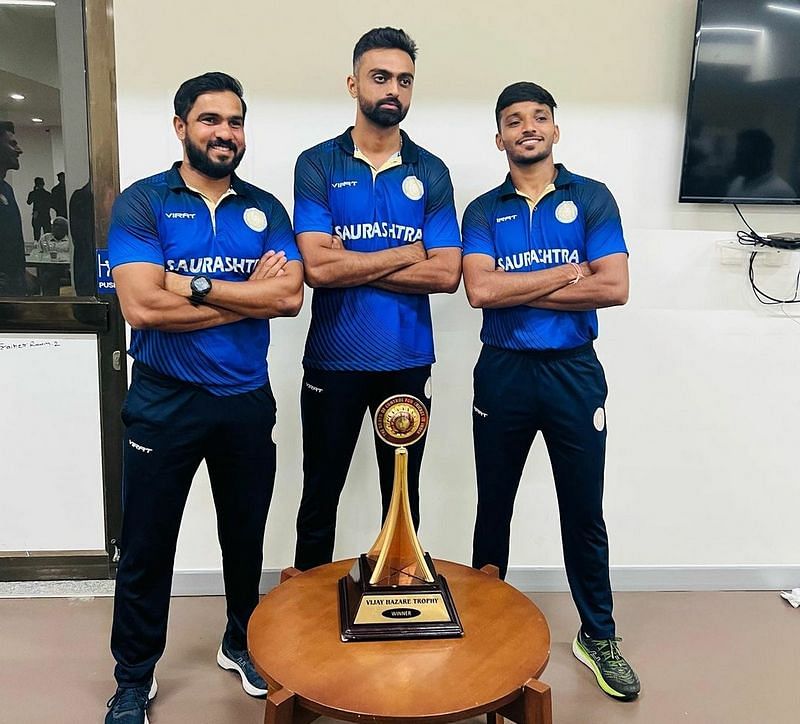 He added that Unadkat not only worked closely with the team's talents but also acknowledged their efforts and helped them reach greater heights.
"Unadkat takes decisions based on his instincts. He promotes tail-enders like Chetan to even bat at no. 5 or 7. He prepares the mindset of the players well for crunch situations. Most importantly, he doesn't forget the contribution of each player in the game," Vasavada said.
Part of this has been creating a positive rather than stressful culture for the team, he added. "He keeps the environment very friendly, makes us relax and celebrate. This creates memories and also helps in building team confidence among each other."
Confidence as a superpower
The Saurashtra team's winning streak is dotted with milestones. In a group-stage Ranji match against Delhi this season, Unadkat became the only player in the trophy's 88-year history to take a first-over hat-trick. In another record, Vasavada became the only player after Dinesh Karthik to have smashed centuries in the semi-finals and finals of the Ranji.
In the Vijay Hazare Trophy, middle-order batter Sheldon Jackson received the player of the match award with 133 runs (not out), and all-rounder Chirag Jani got a hat-trick for the team in the finals against Maharashtra. These performances reflect the dauntless character that the team has developed.
Several players who spoke to ThePrint vouched for the team's confidence being one of its biggest strengths.
"We play more fearlessly, we are more disciplined, also more confident — both in and out of the dressing room," he said.
According to Vasavada, one of the greatest moments for the team was winning against the Mumbai team, a traditional Ranji powerhouse with 41 titles accumulated over the years.
"We had no Pujara or Jadeja as they were playing in the Test series against Australia. Even Jaydev bhai missed some crucial matches. In the absence of all these stalwarts of Saurashtra, we won against Mumbai in Mumbai by 48 runs!" he said. "I must tell you, no Saurashtra team has ever done this in Mumbai against Mumbai."
Notably, Jadeja and Pujara also earned accolades for the Indian team in the Border-Gavaskar series. While Pujara completed his 100th test match in the series, Jadeja was declared player of the match in the second Test.
The right set-up, big ambitions
Good infrastructure and support are an essential part of the Saurashtra team's performance, formula, according to team coach Niraj Odedra.
Speaking to ThePrint over the phone from Bermuda, where he is coaching the island's national team during the off-season, he said: "The team's performance improved due to better infrastructure also. We have around 25 nets in the stadium, where players can come anytime and practice. A lot of support is there."
On his own efforts, he added: "I specifically worked hard for Saurashtra's white-ball game and the results are in front of you. We have won the Vijay Hazare Trophy after 14 years."
With regard to white-ball tournaments, the team has set their sights on securing the Syed Mushtaq Ali Trophy. Currently, Jaydev Unadkat and Samarth Vyas are preparing to play for the Lucknow SuperGiants and Sunrisers Hyderabad respectively for the upcoming Indian Premier League season.
Odedra has big ambitions going forward: "I want to see Saurashtra now dominate even in white-ball tournaments."
(Edited by Asavari Singh)
---
Also read: Why India's retired domestic women cricketers are left out of BCCI pension scheme
---