New Delhi: Serve voters at the grassroots level, don't underestimate the Opposition and reach out to marginalised sections without worrying about votes — with only 400 days to go for the general election, this is the advice Prime Minister Narendra Modi had for Bharatiya Janata Party (BJP) workers on the last day of the party's national executive meet.
In his concluding address, Modi asked BJP workers to reach out to marginalised sections of society, including those in the Muslim, Sikh and Christian communities, with sensitivity.
"Every community has good people; there are also good people in the Muslim community, and we must reach out to them," the Prime Minister said, according to a senior BJP leader who did not wish to be named. Modi also advised the cadre to seek the help of popular shaayars (poets) to connect with Muslim voters.
Sources told ThePrint that PM Modi said "we have a duty towards Pasmanda and Bohra Muslims who are backward in their own communities whether they vote for us or not" and that the party should also "reach out to educated Muslims".
PM Modi was quoted as saying by Maharashtra Deputy Chief Minister Devendra Fadnavis, "BJP workers have to build a rapport with all sections of the society with sensitivity…If there is a deficiency, then it has to be tackled. But while doing all this, don't worry about the votes…whether someone votes or not, if we work for people, they will come along."
The Prime Minister, while urging party workers to conduct 'BJP Se Jodo Abhiyaan' (connect with BJP campaign), also urged them to pay heed to the issue of climate change.
"As we tried to remove gender inequality through Beti Bachao Beti Padhao, the same way we have to listen to the call of our Mother Earth," he said. Building on this, he spoke about the ill-effects of fertilisers and chemicals, and asked BJP workers to work together to inform farmers and raise awareness about alternatives such as natural (chemical-free) farming.
India, the Prime Minister said, is currently in its "best era" and BJP workers should not shy away from hard work.
Stressing the need to turn India's Amrit Kaal — critical time available to achieve highest potential — into Kartavya Kaal (era of duty), Modi said BJP is not just a political movement anymore since it has evolved into a social movement. "Every moment of your life and every ounce of your hard work should be spent serving the people," Modi said in his address on the final day of the two-day national executive meet held in Delhi.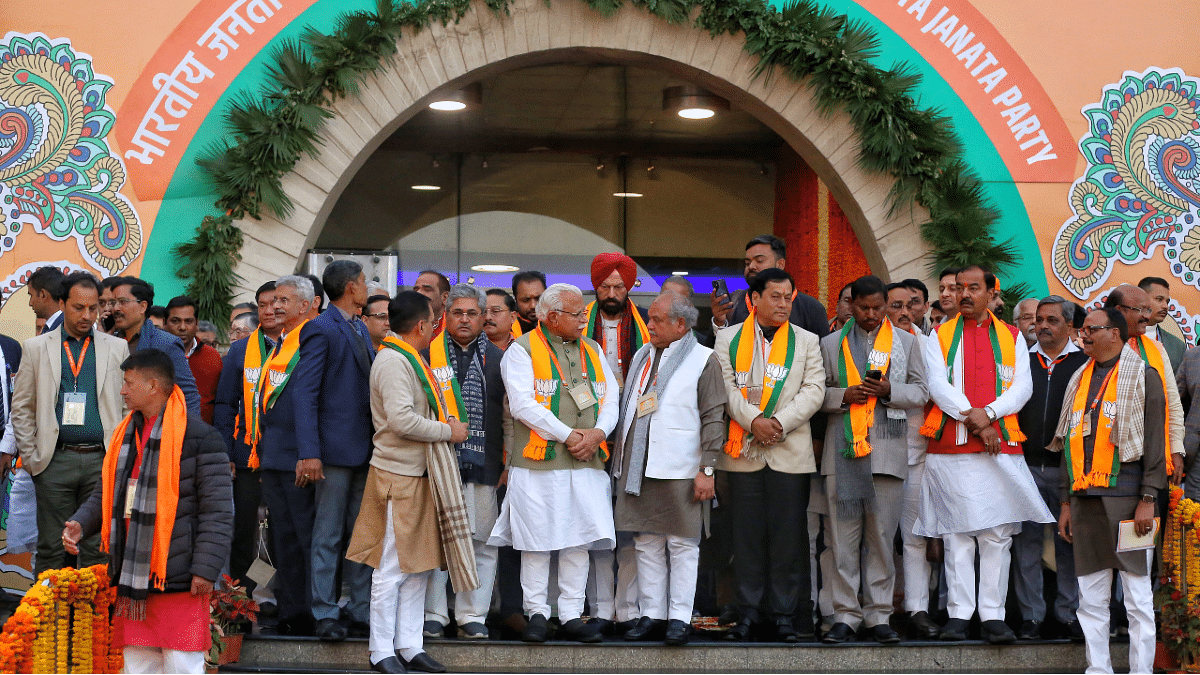 Modi also suggested the need to make young voters aged 18 to 25 aware of India's contemporary political history and the 'misgovernance and corruption' of previous governments. 
Briefing the media Tuesday, Fadnavis said, "Modi ji said youths between 18-25 years of age have not seen the political history of India, they do not know that there was misconduct, corruption, and misgovernance in the previous governments, and where India has come today. That is why (focus on) creating awareness among the youth…trying to connect them with the principles of democracy is important."
The remark comes on the heels of Congress's Bharat Jodo Yatra and its popularity among younger voters. In the run-up to the 2020 Bihar assembly polls, the BJP had mounted a similar campaign to remind young voters about the Lalu Prasad Yadav era, referred to as 'Jungle Raaj' owing to the utter breakdown of law and order in the state during that time.
Meanwhile, Modi also asked BJP workers and the party's various morchas in his concluding address Tuesday to focus on border villages by bringing them into the mainstream. The party, he said, must also play a role in the development of aspirational districts while running parallel programmes to tackle malnutrition and other such issues.
Reiterating the resolution of Ek Bharat Shreshtha Bharat (programme to promote cooperation between different states/UTs), Modi said all states should coordinate with each other, let their languages and cultures come together and connect on an emotional level.
(Edited by Amrtansh Arora)
---
Also Read: JP Nadda's president tenure extended to June 2024; BJP eyeing bigger majority, says Amit Shah
---